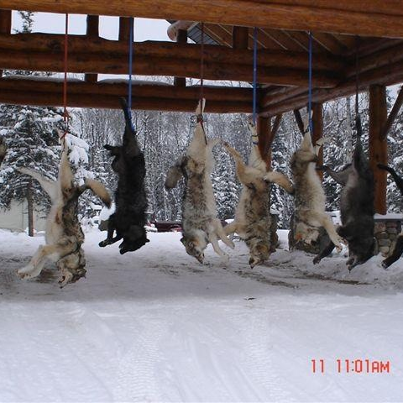 Above photo was posted to the following website & many others since then. I warn you, there's WORSE than this on that page!
http://www.dailykos.com/story/2012/12/12/1168994/-628-Wolves-Slaughtered-this-Fall-Ecological-Disaster-Extreme-Cruelty
REPORTEDLY, the article states this photo was "'found on a Facebook hunting page from Wisconsin. The person who put this on wrote that he knew the person who did it (killing all the wolves), would not divulge his name because of the illegal nature of the hunt, it was in WI in Nov of 2012, and was done because a dairy farmer said he was being harassed by these animals."
Some CRIMINAL killed these wolves ILLEGALLY!
TO WHOMEVER did this:
You're probably sitting somewhere even now hoping that whomever posted this photo NEVER posts your name! You did the CRIME, but you don't want to PAY for that crime, naturally. You prove yourself a coward by hiding the fact that you did this ! Your morals, your ethics, are obviously much lower than whale excrement in the deepest part of the Mariana Trench.
To the shaking-in-his-boots, TERRIFIED 'human' who ILLEGALLY killed these wolves, simply out of FEAR and out of "feeling harassed", may you some day know the feeling these animals knew as your miserable bullets found them, robbed them of their very short lives ...
Can wolves ask "WHY?" Humans can, and so I ask...WHY?
NO, NO, I don't wish you death...I wish you a long, though ignoble life , and a realization of how fleeting life is for lower animals, a realization that YOU were the intruder!
May your life be a continual, never-ending, awakening of your criminal acts! May you, as YOU are HUNTED, by law enforcement, by whomever can take you to JAIL for this CRIME, come to grips with the senselessness of what you've done!
It was YOU who harassed them by your very presence in their ancient domain. Their ancestors were here LONG before yours crawled naked out of caves on another continent! Their line was established for thousands of years in THIS land, THEIR land, before yours came running to the "New World' with their tails between their legs, whining about persecution, too weak to stay and stand their ground in their own lands! If a man won't stand up in defense of his OWN country, what hope is there for him in another's land?
Those old scared and trembling ancestors of yours did not long remember how 'persecution' felt, did they? They forgot what it was like to be singled out for abuse and abasement.
I have to assume they came to this continent and forgot all about persecution, as apparently NONE of them passed on much of any worth to you on not persecuting others, did they, O, CRIMINAL?
But we must ask how cowards can hope to teach courage. How can the fearful teach anything but more fear? How can the bottom-feeders look gladly upward to the light ? For 500+ years the offspring of those who came here 'persecuted' has meant DEATH, DESTRUCTION, UNNATURAL CHAOS.
There is no honor amongst your breed, those who kill merely because they can!It makes me wonder who was actually doing the persecuting back in the 'old countries'.
If you have offspring, did you once dream that they'd admire you for this? Maybe you did, and maybe they do. I wouldn't be surprised. Violent men tend to beget violent men, as it becomes a family traddition.
But you ARE afraid of PROSECUTION, aren't you, criminal?
For tens of thousands of years, before the boats arrived on these shores, other people lived with thousands upon thousands of predator animals. Who knows how many?
They, too, lived with WOLVES, wolves of all types.
When the Europeans came, they found so many wolves, large cats, bears and other 'scary' animals that their hearts almost failed them for FEAR. They were SCARED. They called this 'new' land WILD. They vowed to "TAME THE WILDERNESS"... too afraid to simply learn to live IN it, WITH it. What a sad lot! Such cannot live successfully even amongst others of like minds.
The newcomers determined that all that was WILD must DIE....so let it be written so let it be done...
And it HAS been, almost...it's almost ALL done now!
How very different the European "illegal aliens", the invaders were, and yet are, from the original people of this land who held that ALL life deserved life, that ALL life had a place to live.
Even amongst my generation, the hunters now in my own family, EAT all that we kill, and NEVER kill for sport! How can ANYONE kill for "SPORT"? What "sport" is there in taking a life just for the sake of killing?
How can ANYONE set up shop in the middle of a place that has been known for thousands of years to harbor wolves and then whine & complain that wolves live there?
Aren't there enough places BARREN of wolves for the likes of you to choose from? Isn't there enough desolate land void of "scary animals" for you to find a few hundred acres?
DID ANYONE FORCE YOU TO GO LIVE THERE? Did it ever occur to you that by encroaching on the natural order of that place, you INVITED 'harassment'? By your choosing to reduce the range of natural hunting grounds, and by bringing in your herds you were simply replacing what you moved out of YOUR way with something a wolf would see as FOOD?
How can a person with viable brain cells imagine that wolves know the difference between a "domestic" animal and a wild one? Everything that moves, almost, is PREY to predators! Wolves know that from birth! Pups chase butterflies, anything that moves, because if it moves, it may be FOOD.
THAT'S CALLED NATURAL INSTINCT! IT'S JUST WHAT ALL OF NATURE DOES, ALL BUT MAN! Hadn't you heard of that BEFORE you set up house in WOLF COUNTRY?
Of all that has life, from lowly amoeba and plankton, all the way up to the top of the food chain (HUMAN BEINGS) we alone go against all nature. It seems humans are born with a self-destruct device that they can choose to bring online, and once they decide to do so, they push that big red button from cradle to grave. There is no help nor hope for those who stand in the way of those who choose this path.
If anyone dares disagree, condemns, or casts even a disgusted look in their direction, let there be war!
Some humans seem driven to not only dominate nature and all in it, even fellow human beings, but also hike their legs and urinate in its face along the way. It's not enough to bring all other life into subjugation, no; such people must also clear all signs of it from their path~ the rocks and trees, ALL the plants, ALL the animals, and all that is not just like them.
"CLEAR THE WAY FOR HUMAN BEINGS, CLEAR THE WAY FOR 'MANIFEST DESTINY'! LET US BUILD A TOWER TO THE HEAVENS, BRING DOWN 'THE GODS'! MAN MUST RULE!"
"Too often we excuse those who are willing to build their own lives on the shattered dreams of others" ~ Robert F. Kennedy
"Usually, terrible things that are done, with the excuse that progress requires them, are not really progress at all, but just terrible things".~ Russell Baker
"Mortals are easily tempted to pinch the life out of their neighbour's glory, and think that such killing is no murder." ~George Eliot
DID YOU GET MONEY FOR THEIR HIDES, LAW-BREAKER? THEIR CLAWS, THEIR TEETH, THEIR TAILS, YOU CRIMINAL? DID YOU PROFIT OFF YOUR ILLEGAL KILLS?
OR DID YOU JUST LET THEM HANG THERE AND ROT? I HOPE THE SMELL OF THEM NEVER LEAVES YOUR MEMORY! I HOPE JUSTICE FINDS YOU EVERY DAY, IN SOME WAY, OVER AND OVER AND OVER AGAIN! MAY YOUR SORROWS BE MULTIPLIED BY A THOUSAND TIMES A THOUSAND FOR EACH OF THE LIVES YOU STOLE, SHOULD YOU NEVER SEE THE ERROR OF THIS ACT. MAY YOU NEVER KNOW PEACE NOR SECURITY EVER AGAIN IF YOU DON'T ADMIT TO WHAT YOU'VE DONE AND CONTINUE TO HIDE FROM JUSTICE
IN THAT CASE, BE AFRAID, BE VERY AFRAID, YOU QUIVERING, SPINELESS HUMAN!
BUT KNOW THIS: YOU WILL ANSWER FOR IT SOME DAY!JUSTICE EVENTUALLY COMES TO ALL